SSTI and conference host Rhode Island Commerce Corporation invite you to join your peers for conversations around emerging challenges and opportunities related to science, tech, innovation & entrepreneurship.

As the most comprehensive resource available for those involved in technology-based economic development, SSTI offers the services that are needed to help build tech-based economies.  Learn more about membership...
High-growth firms becoming rarer
May 31, 2018
By: Jason Rittenberg
Myriad data point to a decline in the number of new American business starts, but there have been fewer indicators of whether this overall trend was also true for firms with high growth potential. Recent research now provides evidence that these high growth firms are also becoming rarer. To the extent that high growth firms occur with less frequency, equity investors will have a harder time making successful investments that achieve positive returns — a reality that seems to be indicated by the several-year trend toward a lower rate of exits for venture capital funds.
A 2016 study by Decker et al. looked at changing rates of growth among firms that were growing quickly (90th percentile), in the middle (50th percentile) and slowly (10th percentile) from 1979-2012. Their results indicate that firms at the top were growing much faster than firms in the middle, and that firms in the middle were growing much faster than firms at the bottom in 1979. By 2012, these differences had diminished dramatically. Figure 1, from the authors, compares the differences between the percentiles for both public companies overall and tech companies specifically, showing this decrease in relative growth for the top, middle and bottom firms.
​Figure 1. Change in growth rate differentials for 90th, 50th, and 10th percentile firms.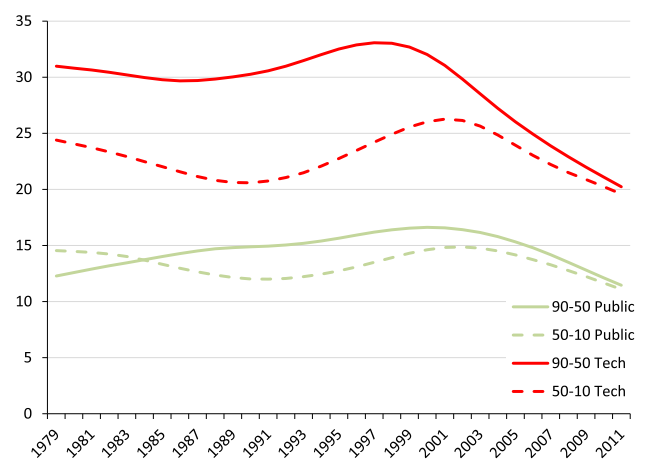 Building on this finding, a paper by Benjamin Pugsley et al. explores the extent to which the success of high growth firms is attributable to business conditions versus actions of the firms. The authors find that 85 percent of the difference in firm size very early in their lifecycle is due to conditions present when the firm was established — and 47 percent of the difference at year 20. In other words, the success of the strongest firms is largely due to the strength of the economy when the firm went into business, and that these benefits still help to separate firms that manage to last for 20 years. Tying this finding to the overall decline in business dynamism, the firms compare the growth of firms created in 1977-1986, when conditions were relatively positive, to firms created in 1987-1994, when conditions were worse. The growth of firms in these cohorts can be seen in Figure 2, from the authors. 
​Figure 2. Firm size by age of establishment.
investing