More than 90 percent of the electorate support expanded efforts to strengthen the key elements of a knowledge-driven economy. Members can sign up for a webinar on how the poll can inform your communications.

As the most comprehensive resource available for those involved in technology-based economic development, SSTI offers the services that are needed to help build tech-based economies. Learn more about membership...
Second round of PPP more evenly distributed
May 14, 2020
By: Jason Rittenberg
SBA began offering a second round of the Paycheck Protection Program (PPP) on April 27, and SBA's data indicate this round is better distributed across businesses and the states than the first. As of May 8, round two has approved $189 billion across nearly 2.6 million loans, 55 percent more than in all of round one. The average loan size in round two is $73,488, which is a significant drop from the first round's average of $206,022. Combined, $531 billion has been distributed in 4.2 million PPP loans.
Despite the national increase in loan approvals, 20 states have received fewer loans so far in round two. One reason that per-state award levels are diverging is that loan approvals are increasing on a per capita basis: from 5.0 loans per thousand in round one to 7.8 loans per thousand in round two.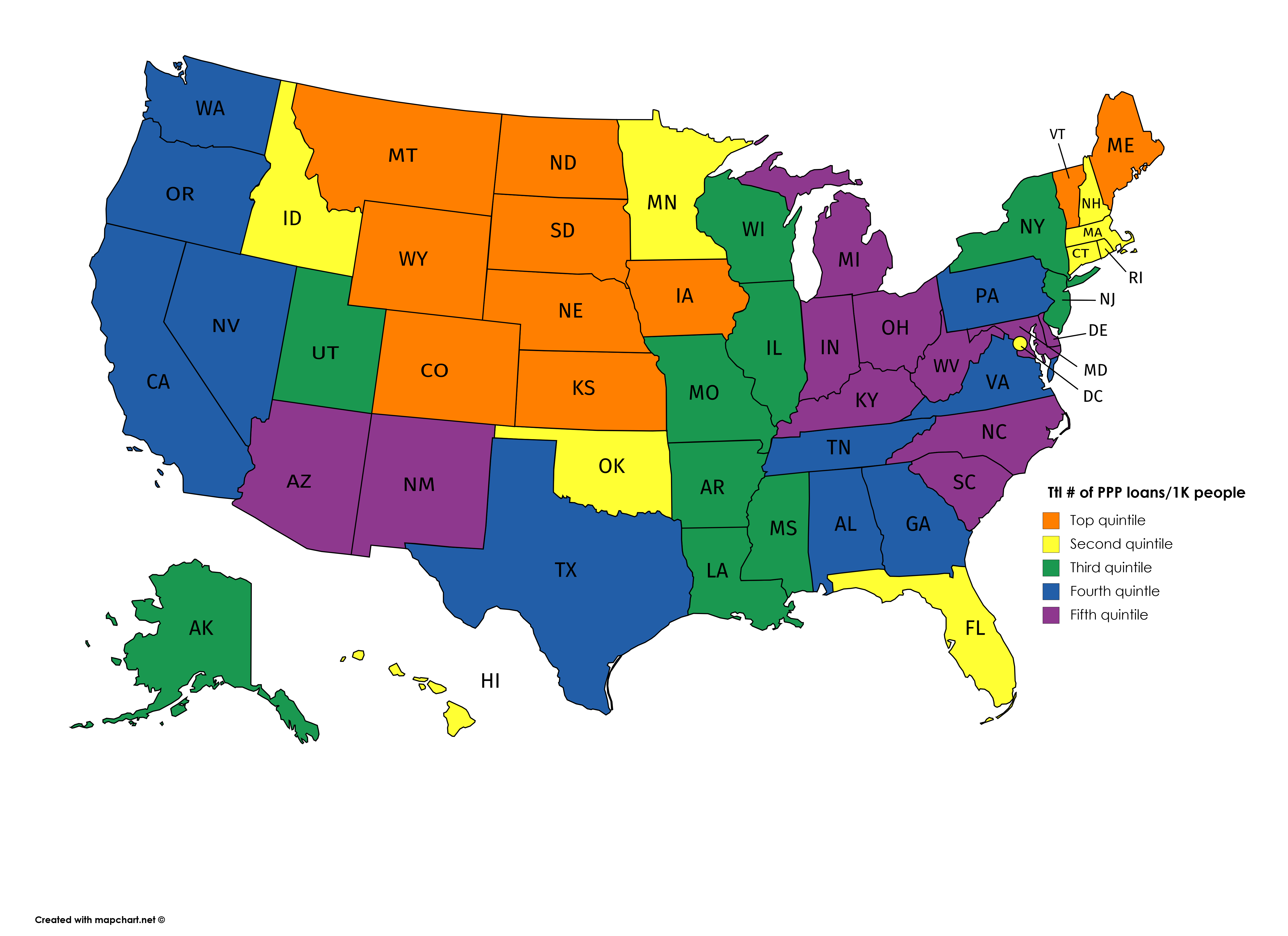 As round two of the PPP has so far approved just 54 percent of round one's funding level, round two has seen fewer dollars flow to almost every state. California, Nevada and the territories are the only regions seeing greater volume so far in round two.
Every state has seen its average loan size decrease by at least half and many by closer to two-thirds, mirroring the national trend. There is great variability in average size loan, with the range being from $82,536 at the low end (South Dakota) to $146,999 at the high end (Michigan). Puerto Rico, which was largely shut out of the larger loans provided in round one, has an average loan size of $64,278.
States in the Great Plains are still seeing the most loans per capita across the total PPP, but the trend is declining. South Dakota is the only state in the region in the top tier of loans per capita for the second round — Florida, New Jersey and the District of Columbia are now also at the top, with each of these four states receiving more than 10 loans per 1,000 people.
While SBA has only released detailed data through May 8, the agency is providing high-level loan information on a daily basis. As of May 12, SBA could still approve more than $100 billion in PPP loan volume for round two.
Download SSTI's analysis of SBA's PPP data here.
sba, coronavirus