As the most comprehensive resource available for those involved in technology-based economic development, SSTI offers the services that are needed to help build tech-based economies.  Learn more about membership...

Each week, the SSTI Weekly Digest delivers the latest breaking news and expert analysis of critical issues affecting the tech-based economic development community. Subscribe today!
SSTI Commentary: Strategic investment needed now
January 23, 2020
By: Dan Berglund
A new report underscores the shifting position of the United States in the global R&D competition and the continuing rise of China. While two charts from the National Science Board's The State of U.S. Science and Engineering summarize the changing nature of this international struggle, the underlying data on where the U.S. and China are investing their resources should really grab the attention of policymakers and one would hope motivate action by the U.S.
China's advance in R&D spending isn't surprising for anyone that's interested in science and technology policy, but the report illustrates the sharp increase in R&D spending and how far the Chinese have come in the last 17 years.   From less than 50 billion in purchasing power parity dollars in 2000, Chinese R&D spending increased to roughly 500 billion in purchasing power parity dollars in 2017. While U.S. spending increased over the same time period, it was not nearly at the same rate of increase as China's.
The R&D intensity (i.e., the amount of R&D spending as a percentage of total GDP) of the largest R&D-performing countries highlights how much China's spending has increased from 2000 to 2017. From just under 1 percent of GDP in 2000, China stood at just over 2 percent in 2017. Only South Korea had a larger increase in R&D intensity over this time period.
The report points out that countries vary in their focus on basic research, applied research, and experimental development. It states, "According to the most recent estimates, the United States spends 17% and China spends 6% of its annual R&D funds on basic research. … China spends 84% of its R&D funds on experimental development, compared to 63% in the United States."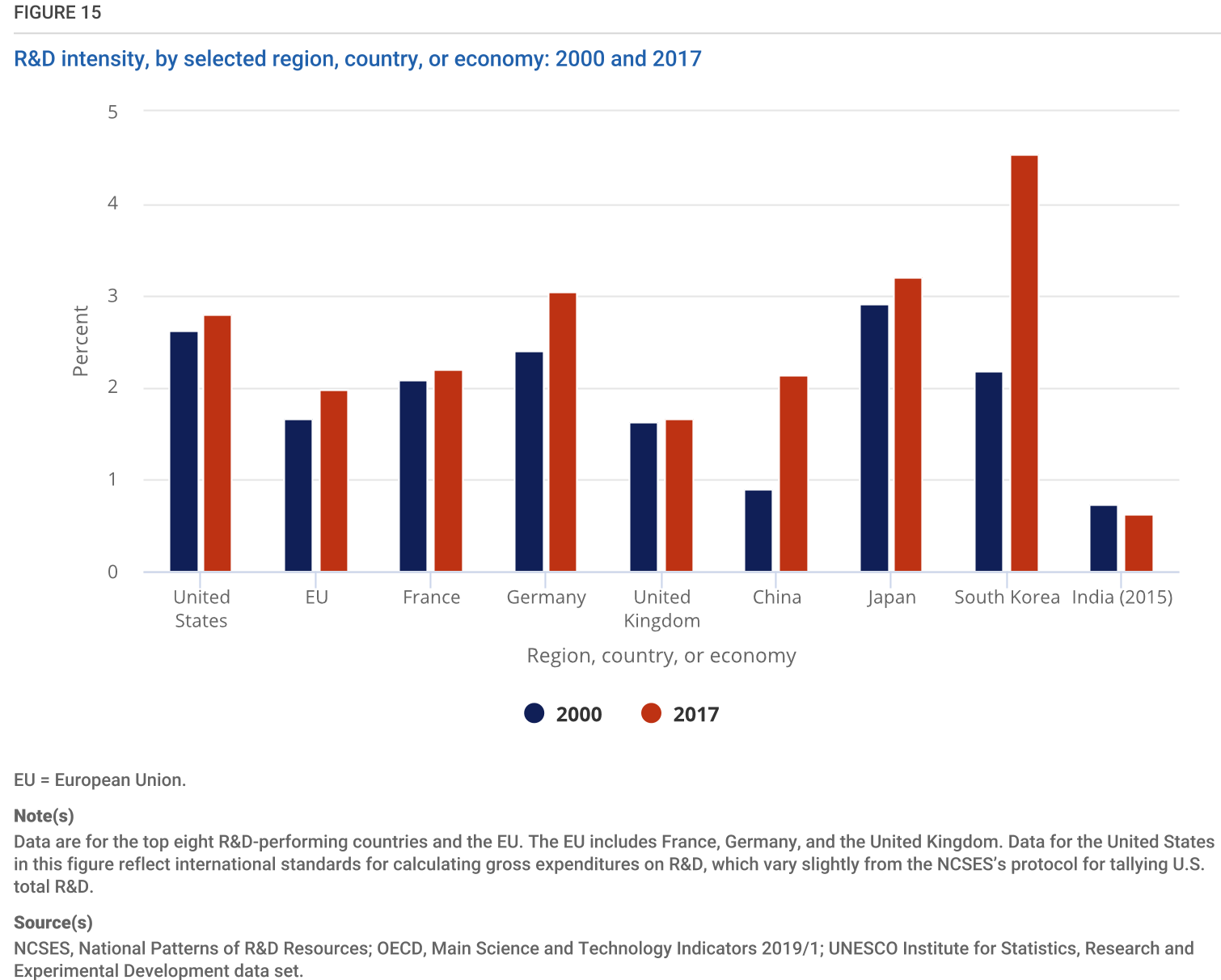 Some press coverage of this finding has implied that while China is on track to surpass the U.S. in R&D spending, the U.S. can take comfort in its lead in basic research. CNN among others report one National Science Board member saying, "Basic research is the 'seed corn' of our US S&E enterprise, a global competitive advantage, and the starting point for much of our GDP growth since World War II." In other words, as long as the U.S. leads in basic research everything will be just fine.
There is no question that basic research is of fundamental importance, but part of the economic advances China, South Korea and Japan have made in recent decades have been because of their expertise in investing in experimental development. Assuming that the U.S. will be fine because we continue to invest in basic research is representative of the typical D.C.-centric approach on science and technology: fill the pipeline with basic research and somehow magically the private sector will ensure that research makes it into the marketplace.
But anyone involved in tech-based economic development knows that the private sector is not getting everything to the market. There are state, university, foundation and local-government-funded organizations that are helping identify research that has commercial potential and trying to scrape together funding to move that research along.
Perhaps elected officials in Washington, D.C., will look at the first chart in this article and begin to realize that the U.S. supremacy in basic research will be meaningless from an economic perspective unless the federal government begins investing in and encouraging investment in a strategic fashion to move our research "seed corn" through to planting and ultimately, harvest.
international, international R&D, r&d