As the most comprehensive resource available for those involved in technology-based economic development, SSTI offers the services that are needed to help build tech-based economies.  Learn more about membership...

Each week, the SSTI Weekly Digest delivers the latest breaking news and expert analysis of critical issues affecting the tech-based economic development community. Subscribe today!
Tech industry is booming, but women's participation continues to lag
October 20, 2022
By: Jonathan Dillon
In another illustration of how women's participation in the tech industry continues to lag, SmartAsset recently released its annual report looking at Best Cities for Women in Tech. The report finds country-wide, the percentage of women in STEM is growing, but that growth is occurring at a dwindling rate, and that women make up only about 20% of the field's total workforce. Detroit, Michigan, has the highest percentage of women tech workers (41.7%), according to SmartAsset. Irvine, California, was cited as having the lowest percentage (18.9%) of women tech workers. The report shared statistics for women's participation in STEM in other cities as it relates to the industry growth with that area and their income.
The U.S. Census Bureau adds more to the picture, reporting that from 1970 to 2019, women's participation in the U.S. workforce had risen by 10 percentage points, from 38% to 48%, while in the STEM fields, this proportion increased from 8% to 27%. While these numbers reflected gains for women in STEM, in 2019, the report stated that most of the gains were in math and social sciences, and those areas don't comprise the majority of the STEM workforce. Most STEM occupations lie in computer science and engineering, which make up about 80% of STEM in the U.S. Yet the Census Bureau reports that women make up just 25.7% of computer science workers and 15% of engineers. 
Only a fraction of the women majoring in STEM fields actually go into jobs related to that field, according to the American Association of University Women (AAUW). The association reported that of the 21% of engineering majors that are women, only about 24% of them end up working in engineering. Of the 19% of computer science majors that are women, only 38% of them end up working in computer science related jobs. 
In fact, based on the U.S. Census report, the proportion of female involvement in computer science in relation to men is dwindling and has been since 1990. In that year, female involvement in computer science occupations was about 35%. In 2019, the number has receded to around 26%.
Girls Who Code, a philanthropic research organization focused on putting more women in STEM, reports that the biggest drop off of girls in computer science is between the ages of 13 and 17, and the organization maintains that the percent will continue to decline if more action isn't taken. AAUW argues the low percentage of women in STEM can be attributed to environmental factors like gender stereotypes, male dominated cultures in the field, and young women having fewer role models in science, tech and engineering fields. 
Three barriers to female integration into STEM noted by the George Lucas Educational Foundation are stereotype threats, race and class, and the context in which academic testing is administered. It states that extra or co-curricular programs, single-sex programs, training in culturally responsive teaching strategies, and the practice of introducing more Black and female role models to students have been helpful in encouraging more young girls to pursue STEM.
As the tech industry continues to grow, some leaders in the field are trying to increase the participation of females in STEM occupations and education, not just among American adults but also young girls themselves. With that goal in mind, solutions like those listed above may be instrumental in creating a more equitable workforce all around the country.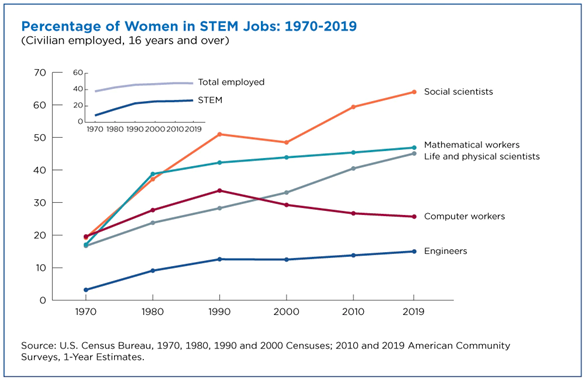 stem, women, science