Join your peers in Atlanta for SSTI's 2023 Annual Conference, where we will focus on strengthening regional innovation economies. Visit the conference site for more information.

As the most comprehensive resource available for those involved in technology-based economic development, SSTI offers the services that are needed to help build tech-based economies.  Learn more about membership...

Each week, the SSTI Weekly Digest delivers the latest breaking news and expert analysis of critical issues affecting the tech-based economic development community. Subscribe today!
While economic expansion continues, several states forecasted to experience contractions
February 06, 2020
While the longest economic expansion in modern times in the U.S. continues and fears of a nationwide recession have subsided, there are signs that growth is slowing, and some states may be at risk for a recession. According to projections reported last month from the Federal Reserve Bank of Philadelphia, several states' economies are forecasted to slide into varying degrees of contraction within the next six months — the most since the financial crisis over a decade ago.
Based on the analysis, nine states: Connecticut, Delaware, Kentucky, Montana, New Jersey, Oklahoma, Pennsylvania, Vermont, and West Virginia are all facing projected economic contractions. West Virginia's economy is expected to shrink the most, and is the state at most risk for a recession while the projected decline in Pennsylvania's economy is anticipated to be the state's most severe since May 2009, the tail end of the Great Recession. Delaware, Montana, and Oklahoma are identified to also see shrinking economies over the same period, which was previously projected in an analysis the Federal Reserve reported earlier in December.  
In addition, the Federal Reserve also expanded its reporting to include potential contractions for Connecticut, Kentucky, New Jersey and Vermont. Those four states are expected to expand before facing contractions. Although the Fed no longer expects Alaska to post negative growth, the state's economists have recently forecasted that as Alaska continues a slow and incremental recovery out from the last three years of a statewide recession, its largest city, Anchorage, is expected to continue to be mired in a "mild" one. According to preliminary data, Anchorage lost approximately 300 private-sector jobs and roughly 400 state and local government jobs last year (primarily as a result of Gov. Mike Dunleavy's cuts to the University of Alaska budget), hampering its recovery in what is now a five-year recession.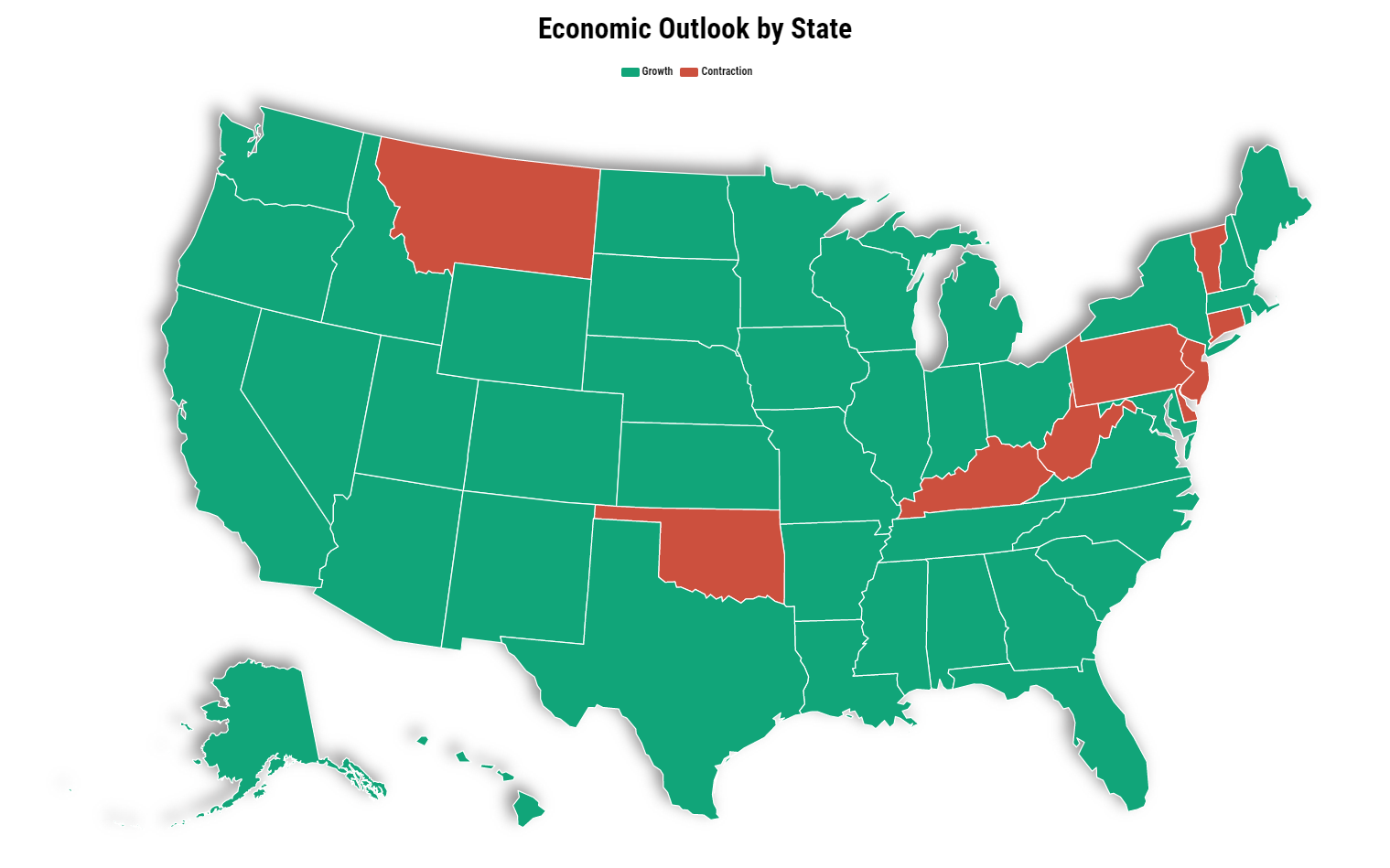 federal reserve, states