The growing college wealth divide — a quick look
March 19, 2020
By: Sarah Holbert
While the income benefits of a college education receive frequent attention, a recent article from the Federal Reserve Bank of St. Louis highlights the importance of a college degree for wealth accumulation. The average wealth for a college-educated household has tripled since the 1970s, while wealth for households without degrees have remained stagnant. These divergent trends in economic well-being are further evidence of the growing inequality among Americans, and the rising importance of education to staying ahead of this divide.
The authors compare wealth between households whose head holds a college degree (college households) and households whose head does not hold a college degree (noncollege households). Between 1971 and 2016, the wealth of college households tripled. Gains were particularly robust for households with two college-educated spouses. Over the same time period, noncollege households saw an increase of about 25 percent in their wealth, or about one-twelfth the gain of college households.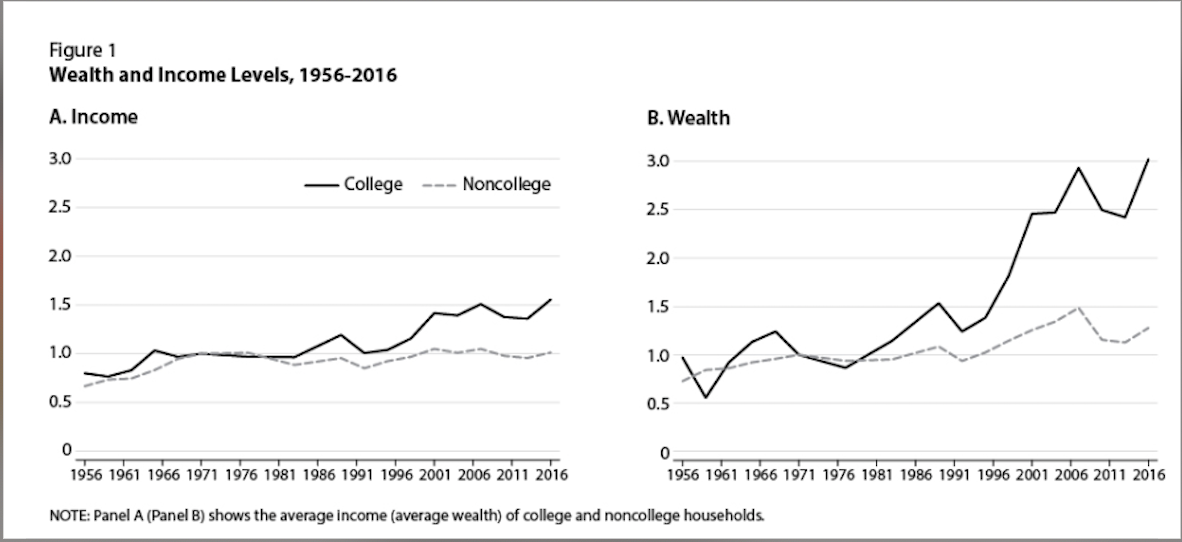 This wealth gap between households is far outpacing the income gap between college and noncollege households, which is also growing. In 1971, income levels were roughly equivalent. However, college households have seen a 50 percent increase in their income, while noncollege households have seen no change. Interestingly, both the wealth and income gaps began appearing in the 1980s and accelerated in the mid-1990s — but with college households' wealth taking off at a very fast rate.
As with other recent studies of inequality, the gains among the top 10 percent of the wealth distribution add to the diverging fortunes of college and noncollege households. Households without a college degree are now less than half as likely to be in the top 10 percent than they were in 1971. For college households, the chances of being at the top of the wealth distribution have remained stable.
The authors conclude that more research is necessary to determine causes behind this growth. Possibilities discussed in the article are the different asset holdings between the groups and the likelihood of employment versus business ownership. The causal relationship between education and wealth is also important to understand: to what extent does an education help create wealth, or is wealth increasingly driving educational attainment?
federal reserve, higher ed, education, wealth