As the most comprehensive resource available for those involved in technology-based economic development, SSTI offers the services that are needed to help build tech-based economies.  Learn more about membership...

Each week, the SSTI Weekly Digest delivers the latest breaking news and expert analysis of critical issues affecting the tech-based economic development community. Subscribe today!
Manufacturing wage growth supporting Appalachian economy
November 21, 2019
Earnings for Appalachian manufacturing workers grew 3.4 percent from 2012 through 2017 to an average of $63,583. The growth is in the Appalachian Regional Commission's Industrial Make-up of the Appalachian Region, 2002-2017, which reviews employment and wages by sector across the region. Appalachian workers overall saw earnings increase by 3.7 percent over the five years. In the rest of the country, manufacturing wage growth was 1.2 percent or 3.3 percent across all sectors.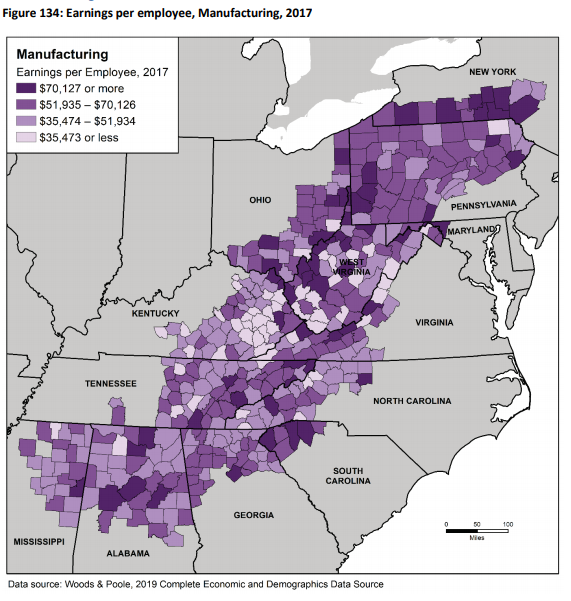 Wage growth was uneven within the region. Southern Appalachia saw the greatest gains, with 5.2 percent growth, driven in large part by Georgia's increase of 6.5 percent. Appalachian counties adjacent to metros saw the largest increases (6.4 percent near large metros and 5.8 percent near small ones), although these gains still leave an earnings gap compared to metro-based manufacturing employees in the region.
The comparatively strong percentage gains for manufacturing employees in Appalachia has not closed much of the earnings gap with workers outside the region. In 2017, the average manufacturing employee outside of Appalachia earned $79,098 — $15,515 more than those working in the region. The gap is less than in 2012 ($16,623) but more than in 2007 ($14,906). Despite their recent gains, Appalachian workers will need a growth rate at least 25 percent greater to catch up to the rest of the country.
Still, manufacturing appears to be a smart career choice within the region. The sector employs 10.0 percent of workers but sees 13.6 percent of the earnings in Appalachia, thanks to an average wage substantially above the region's $46,697. The graphic, above, is from the report and displays manufacturing earnings per employee for each Appalachian county.
ARC's report covers earnings and employment over the past 15 years for all major industry sectors defined by NAICS.
Alabama, Georgia, Kentucky, Maryland, Mississippi, New York, North Carolina, Ohio, Pennsylvania, South Carolina, Tennessee, Virginia, West Virginia
manufacturing, ARC