As the most comprehensive resource available for those involved in technology-based economic development, SSTI offers the services that are needed to help build tech-based economies.  Learn more about membership...
Postsecondary education enrollment affected by economy
June 21, 2018
A new report from the U.S. Census Bureau shows that while postsecondary education enrollment has increased overall between 1955 and 2015, it has increased and decreased during this long-term period of increase, reflecting changes in the economy. In particular, the Great Recession of 2007 to 2009 influenced significant changes in American postsecondary education enrollment, according to the report.  The number of students enrolled in college in the U.S. increased during the recession, and then fell during the post-recession years of 2012-2015. However, from 2006 to 2011, total college enrollment grew by 3 million, contributing to the overall growth of postsecondary enrollment during the Great Recession period.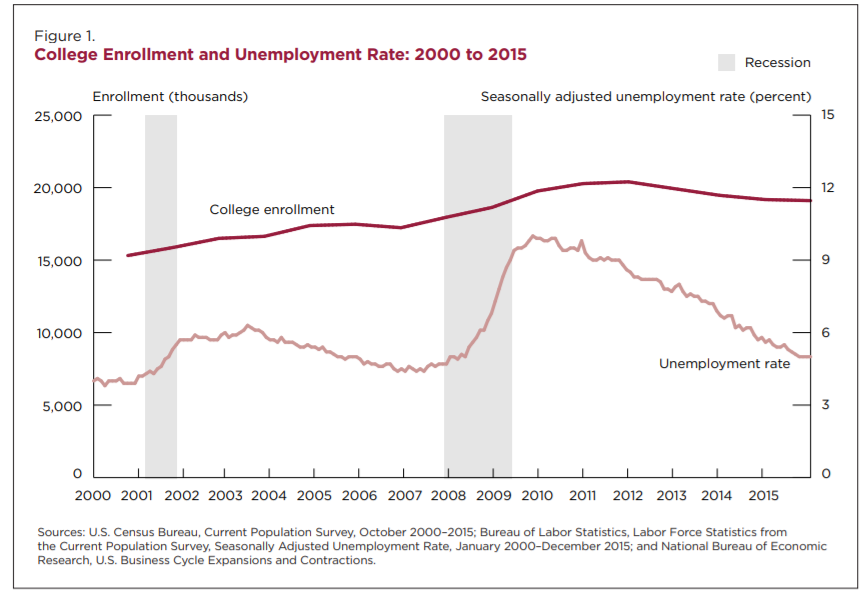 Other findings in the report detail additional changes in enrollment surrounding the recession, including: 
The recession saw a 33 percent increase in enrollment in two-year colleges from 2006 to 2011. In 2010, 29 percent of all students enrolled were in two-year colleges. By 2015, this share had fallen to 25 percent, below the prerecession average level of 26 percent. However, the number of students enrolled in two-year colleges was still 10 percent above the level in 2006.
Overall enrollment levels fell after the recession from 19.8 million (2008 to 2011 recession period average), to 19.4 million (2012 to 2015 post-recession period average). Part of this was the result of students who had returned to college after being in the labor market or otherwise out of school. The number of college students in this category grew by 30 percent from 2006 to 2010, but by 2015, it had returned to a level that was not significantly different from the level of 2006.
While enrollment increased and subsequently decreased in both 2-year and 4-year colleges during the recession, the change was concentrated in 2-year colleges. After the recession, 2-year college enrollment returned to prerecession levels, while 4-year college enrollment was higher than it was before the recession. Two-year colleges generally have lower tuition and fees than 4-year institutions, and, the report notes, they may be more appropriate for those who seek to gain new skills quickly.
higher ed